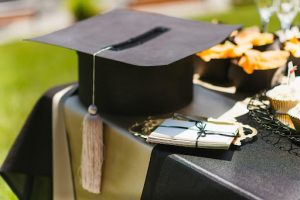 Although the ongoing coronavirus pandemic forced changes to the traditional school year, we believe it's still important to celebrate graduates. While you might be trading the private dining room downtown for a backyard soiree this year, there are still many ways that you can throw a graduation party that your guests—and graduates!—will remember for years to come. These are a few of our top tips for throwing a memorable graduation party this year:
Don't Forget to Decorate
Often when parties and events are held outside, decorations become an afterthought. Just because there may not be the traditional "four-walled" structure to hang decorations doesn't mean that you should skip the decorations. Adding balloons, flowers, and pictures of the graduates on tables can help create an energetic and optimistic atmosphere. Consider ordered custom printed accessories such as coasters or napkins with photos of the graduate to add a personalized touch.
Food, Glorious Food
The two most important things to remember when throwing a graduation party are:
Have food you like to eat

Have enough food
The easiest way to make a lasting impression on hungry children, teenagers, and adults is to feed them delicious food. To do this, you'll need enough equipment for proper food service. It's also important to get an accurate headcount so that you have enough food for all guests. It's been scientifically proven that an empty stomach leads to poor decision-making, so if you want to keep guests in positive spirits, make sure they're fed.
Have a Rain Plan
Nothing can stop a party in its tracks like an unexpected downpour. We always advise our clients to have a rain plan, which usually includes erecting a tent capable of holding all guests. An additional perk of having a tent at your party is that it can provide sitting in a shaded area for older guests or those who want to take a break from the sun. Before you decide on a tent, make sure that it's compatible with the intended surface area. For instance, pole tents often don't work on concrete.
Looking for ideas, or not sure what decorations and accessories you need for your next party? We have years of expertise in planning the best events in the Bucks County area. We even offer complete graduation party packages complete with dancefloors and staging to ensure your outdoor graduation party has everything that's needed for it to be a success. For more information about our tent options and party planning packages, don't hesitate to reach out to our team today!