Request A Quote | Photo Gallery | Space Configuration Guide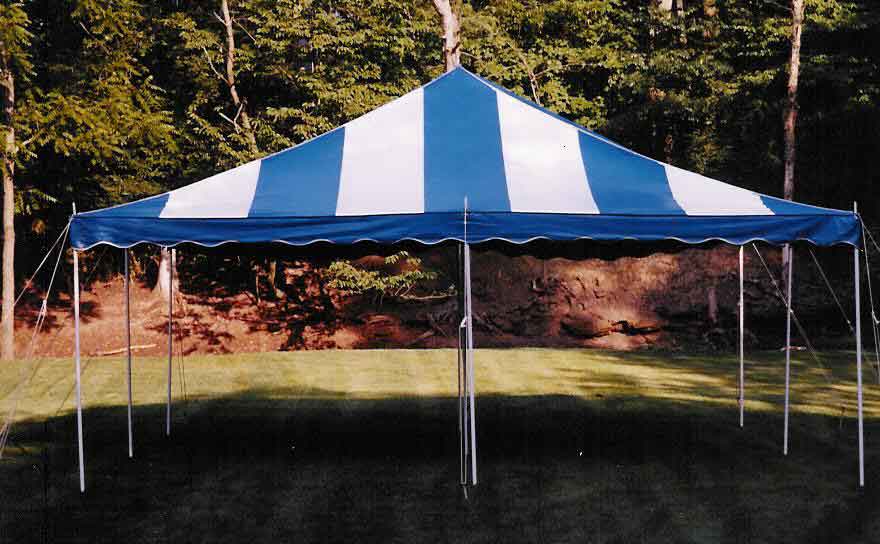 Practical as well as festive, a tent or canopy presents the opportunity to create a unique setting for your event. You choose the size, configuration ambiance, and site location. Facilities may be customized for every type of private, commercial, or institutional events, including weddings, picnics, fairs, trade shows, and sporting events. Sidewalls are an available option for frame tents, pole tents and marquee's. Our services make tent rental in Langhorne area and other towns stress free.
| | |
| --- | --- |
| Frame Tents | |
With no center poles required, frame tents permit maximum use of interior space and are suitable for installation on any surface with close proximity to freestanding structures.
Basic Frame Tents Sizes (W x L) - All structures expand to your required length.
| | | | |
| --- | --- | --- | --- |
| 9'x10 | 10'x10 | 16'x16 | 16'x24 |
| 16'x32 | 16'x40 | 16'x48 | 20'x20 |
| 20'x30 | 20'x40 | 20'x50 | 20'x60 |
| 30'x30 | 30'x40 | 30'x50 | 30'x60 |
| 30'x70 | 40'x40 | 40'x60 | 40'x80 |
| 40'x100 | | | |
| | |
| --- | --- |
| Marquee | |
Entrance / Walkway
Marquee Size (W x L): 9'x10' Length can be increased by 10ft. increments to desired length.
| | |
| --- | --- |
| Pole Tents | |
Pole tents allow for greatest capacity. With a center pole(s), high ceilings, and elaborate shapes, pole tents afford maximum room for large events. Easily outfitted with lighting, HVAC, and decorative materials, pole tents make the impact. Pole tents are tension structure tents and must be staked.
Basic Pole Tent Sizes (W x L)
(40'x40 - 40'x200) (60'x60 - 60'x200) (80'x70 - 80'x220)
Tent Accessories
Sidewalls
(solid, clear; cathedral/windowpane)
$1/ft Clear
$1/ft Cathedral
$1/ft Solid White
Lighting
Track lighting, 3 spots
$25.00
Spot / pole light, 1 spot
$25.00
String Lights
$1/linear foot
Extension cord
$4.00
Tent Heater
(requires propane and electricity)
Propane
20# - $25
100# $110
Fans

Pedestal Fan (18")

$25

Tent Fan (12" Versa Cool)

$35

Mist Fan

Call
Air conditioning
Call
Tent weights

Cement Blocks

$25 each

Water Barrels (filled)

$25 each

Water Barrel Cover (white)

$10 each
Fire extinguishers
$10 each
Exit & "No Smoking" signs (paper)
$3 each
Lighted Exit Sign (requires electricity)
$35 each
Clear Tent Tops
Available in the following sizes:
20x20, 20x30 & 20x40
Call for price
Barricade (metal, 8' x 43")
$28
Canopies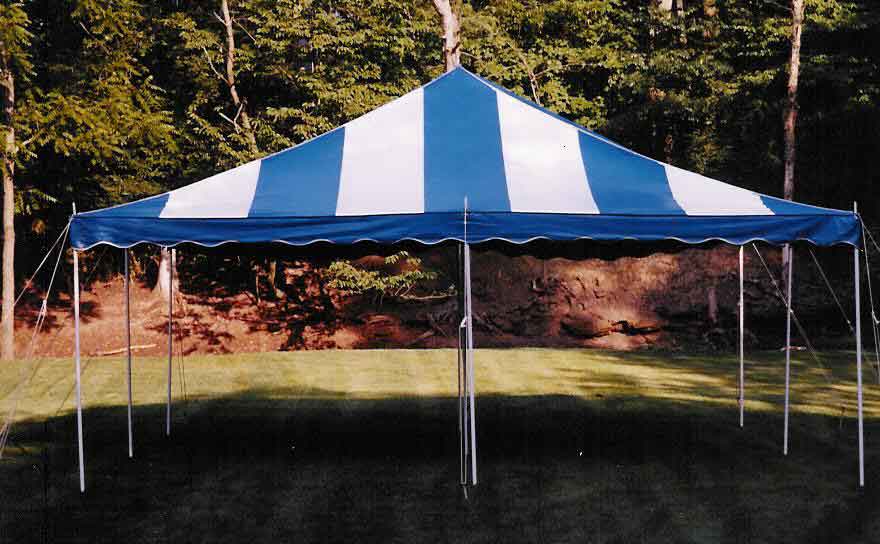 Easily transportable, lightweight, water-resistant tents for do-it-yourself installation on lawns. Party canopies require rope and stakes (which are included) for installation. You only need a small sledge hammer to install. Sidewalls are not available for canopies. Not recommended for extreme weather conditions.
Available Canopy Sizes (W x L)
20'x20'
20'x30'
20'x40'
10'x10' EZ UP
Canopy Installation Instructions
Step 1: Layout at Site
Lay out Canopy as shown below to exact desired position. Assemble 2-piece side poles and lay straight out from each pole hole in tent top. Drive the stake one foot from the end of each pole. Attach ropes loosely to stakes.

Step 2: Raise Side Poles
Insert side poles into pole holes and raise so that bottom of poles slant toward center of tent. Tighten guy rope. Continue with other two corners.


Step 3: Raise Center Pole
Assemble 3-piece center pole and insert into center pole hole. (20'x30' canopies will have 2 center poles.) Raise to upright position and tie off jump rope.


Step 4: Side Pole Adjustment
Tighten guy ropes and then set side poles to upright position. Adjust pole positions and guy rope tensions to properly tighten tent, eliminating sags in top.



If you have any questions or concerns, feel free to give us a call today. We have provided services such as tent rental in Philadelphia, Southampton, Newtown, Abington and other towns in Montgomery County, PA.