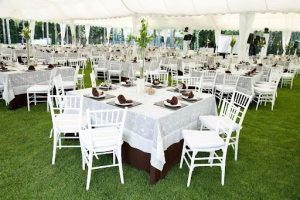 Every little detail matters when planning an outdoor event, and that includes your table linens. You don't want to spend hours designing the table settings only to have your tablecloth clash with the design of the dishes or the color scheme of the centerpiece. Additionally, some tablecloth materials work better for outdoor events than others.
We've put together a list of four linen selection tips to help you choose the best linens for your event.
Consider Your Event Decor and Theme
Have you already picked out the other significant elements of the event's decor, such as the plants, table centerpieces, signs, or stage props? Make sure you select table linens that match existing color schemes, patterns, and textures.
If you don't have any defining pieces yet, you can use linen as a springboard for the rest of your outdoor event's decor. We recommend choosing linen with more muted colors, such as soft pinks and pale yellows, for summer and spring and using linen with bold colors, such as reds or purples, for fall and winter.
The formality of the outdoor event can also help determine the color and style of your tablecloth. If you're planning an outdoor summer wedding reception, you may consider decorating the tables with short pastel blue linens with matching chair ribbons. Alternatively, you may choose long black silk tablecloths if you're planning an outdoor evening cocktail party.
When choosing table linens, always keep your event's theme and decor at the top of your mind.
Determine Your Outdoor Tablecloth Material Options
The material of the tablecloths is a crucial factor to consider when selecting linens for any outdoor event. If you choose the wrong material, you could end up creating a tacky or contrasting look.
Below, we've highlighted a few of the best tablecloth materials for outdoor events:
Polyester:

Made for durability and frequent use, polyester linens are wrinkle-resistant and perfect for semi-formal events.

Silk:

For classy and formal occasions, silk tablecloths are available to use as statement pieces. However, this material comes with a high price tag.

Vinyl:

Designed to be waterproof and easy to clean, vinyl tablecloths are a popular choice for family picnics and casual get-togethers. We do not recommend this material for semi-formal and formal events because they have a cheaper appearance.
Match the Centerpiece
Wow guests with linens that complement your table centerpieces. If the centerpiece is elaborate, use tablecloths without patterns and with soft colors. If the centerpiece contains candles or lights, consider laying shiny linens across the table to highlight the flickering glow. When your guests walk into the tented area, you don't want them cringing at the decorations competing for attention.
Choose Complementary Napkins and Chair Covers
Before finalizing the tablecloths, make sure you can find napkins and chair covers that match the tablecloths. With these more minor elements, you can experiment with various colors, patterns, and textures. Don't be afraid to mix and match to see what works best in elevating the ambiance of the outdoor event.
Renting the Best Linens in Philly
Designing the table settings for an outdoor event can seem like a massive undertaking, but it doesn't have to be. Take the hassle out of choosing the right linen materials for your outdoor event and get tablecloth rentals in Philadelphia from Tents & Events, your go-to stop for table and chair rentals in Bensalem, PA. 
We'll help you determine the best tablecloth for your event's design. We'll even take care of the washing and ironing for you. Contact our team today to get your linen selections in order!