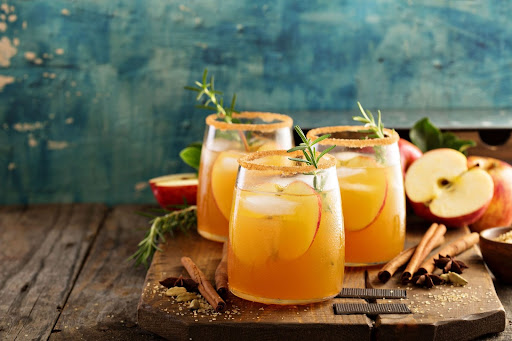 The autumn season is finally here, and throwing a celebration to highlight the wonderful qualities of the season may be something you are considering. Cool weather is perfect for throwing an outdoor party with family and friends. There are so many fun things to do together as you enjoy and celebrate this new season. 
However, you may be wondering how you should even begin to plan this sort of event. Well, to help you out, here are a few tips for planning a fall harvest party! 
Plan It All Out 
The first thing you should do when you are considering throwing a fall party is to lay all your ideas out and plan everything. Take a look at some ideas (like the ones below!) and decide what you think would be the best choice for your party. Choose a theme and determine how you will bring that idea to life. 
A helpful tip is to get a notebook and write down everything that you have in mind. Having all your ideas right in front of you can help you to feel more at ease about the whole planning process and gives you the advantage of quickly checking things off when they are completed.
Fall Decorations 
Decorations are a perfect way to start planning a fall harvest party. They are essential to creating that ideal autumn ambiance in the area where everyone will gather. You can use many materials to enhance the surroundings, including things you may already have around the house. Here are some fall decoration ideas to inspire you:
Pumpkins:

One of the first things people think of when they think of fall is pumpkins. So the good thing about them is that you can incorporate pumpkins into many of your party's decorations. Buy varying sizes, shapes, and colors and use them in all different ways. You can use them as centerpieces for your tables or place them around the party area. They can even be hollowed out and used to hold candles. 

Mason Jars:

Do you need a place to put tableware? Decorate some mason jars, and voila! You can tie some strands of colorful string around the top or use washable markers to label and decorate them. 

String Lights:

If your party will be held in the evening or run well into the night, it's a good idea to have some form of light. Not only can this help keep everyone safe, but it can also keep the mysterious autumn mood alive.
Autumn-Inspired Food and Drinks
There are so many kinds of fun fall foods that are sure to be a hit with your guests. Having a variety of drinks for everyone is also a great idea. Be sure to display the food and drinks in a fun way to make everything seem more inviting for your family and friends. Consider getting one of our many multi-use banquet tables so you can have plenty of room to display the spread. Have fun with it, and get creative!
Here are a few festive food and drink ideas that you may want to incorporate when planning a fall harvest party menu: 
Cider:

While lemonade is the family drink of summer, cider is surely the autumn one. There are many types of cider that you can serve at your party, but some of the main flavors are apple, spice, and ginger. You can always add fresh cinnamon sticks to whatever flavor you decide on to give it extra spice. 

Anything Pumpkin Spice:

Pumpkin-flavored food is a main part of fall and should certainly be included in your fall harvest party menu. A sweet and easy pumpkin recipe is a good old classic pumpkin bread. However, if you want to change things up, you can make muffins and add icing to the top to create a sweet treat for your guests. And, of course, you can always go with a classic pumpkin pie. 

Apple:

Apple is another great treat that reminds us all of autumn. Having unique treats like apple pie bars and candied apples are fun ways to incorporate fall differently. However, you can always go for something a little more classic and have a few apple pies with ice cream. 

S'mores:

If your outdoor fall harvest party will have access to a fire pit, it is a great idea to think about s'mores as a party treat. Kids and adults alike will have lots of fun making and enjoying them, and the ingredients are so simple to find.
Activities for Everyone
Having a few fun activities everyone can enjoy in between conversation and eating is a perfect idea for a fall party. Adults and kids will both certainly want to participate in some fun fall festivities. Here are a few ideas to inspire your planning: 
Pumpkin Carving Contest:

Get some pumpkins, knives, and spoons and see who can make the best-looking pumpkin. Then let your guests take home their final results with a small candle or lantern to go inside. This classic fall party activity is sure to be fun for all ages.  

Donut-Catching Contest:

All you need for this fun activity is lots of donuts and some string. You can tie the donuts up on a tree branch and see who can catch the most donuts without using their hands. It's a quick, easy, fun game that the kids and adults will laugh at.  

Make Candy Apples:

Have fun making caramel or chocolate apples. A quick trip to the store will give you everything you need for this activity. And your guests will have a great time making some festive autumn treats they can eat there or take home with them to keep the party going even after it's over! 
Enhance the Ambiance 
The last step to planning a fall harvest party is to create an ambiance that feels like the epitome of fall. Since autumn is a cool and mysterious time, an evening or night setting is a perfect setup for your party. Make sure you have lots of candles and lanterns that provide enough light but keep the atmosphere calm and peaceful. If you have a fire pit, keep it going, too, so that you have a heat source to keep everyone warm and help keep the fall spirit alive. And always have some blankets (wool is a good material choice) handy, so if there is a chill that happens to creep up on you, everyone will be prepared. 
Create the Perfect Fall Party Space
Planning a fall harvest party is always fun, and here at Tents and Events, we can make your job even easier by creating a space for you. You can rent a stage for all your food and drink tables or activities. Contact us today to learn how we can help keep all your fall party activities in one place!