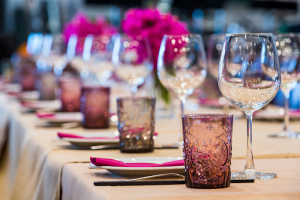 Decorating the banquet tables at your garden wedding, outdoor corporate event, or family reunion might be overwhelming because you have a lot of plans in mind but don't know where to start. On the other hand, you might be frustrated because you don't have any ideas at all. Whichever option describes you, worry no more! The team at Tents & Events knows a thing or two about banquet tables — we're not one of the top event tent rental companies in Philadelphia for nothing. Whether you're planning a graduation party, wedding reception, quinceañera, or something totally different, use these all-purpose banquet table decor ideas to elevate your event and get your guests talking!
Spectacular, Stress-Free Seating
Finding enough tables and chairs for everyone can be a challenge, even at small family get-togethers — so wrangling the seating for a big wedding table or birthday party can be downright nightmarish! Skip the headache and coordinate your tables and chairs beautifully with Tents & Events' table and chair rental in Philadelphia. You'll be able to seat everyone and provide everyone with table space for eating, drinking, and merrymaking — without worrying about driving all around town looking for enough tables or chairs to borrow!
Wow Them With Themed Table Linens
Table linens are underrated, in our humble opinion! Good table linens can take an outdoor event from plain to polished in an instant. Match table runner colors with event theme colors, or give each banquet table its own special color to make it easy to call people up for food.
Alternatively, if you have a head table (such as the happy couple's wedding table or the birthday girl's special spot), choosing different colored table linens is an easy way to make that table stand out. Everyone will be sure to notice the star of the show!
Create a Personal Touch With Placards
Everybody loves being welcomed by name, and you can accomplish three different goals at once with personal name placards at each spot. You won't have to worry about directing guests to the right seats, you'll make everyone feel welcome, and you'll give them something to take home! Pro tip: if you anticipate unexpected guests, provide a few blank placards that can be written on so nobody feels left out.
Embrace the Power of Flowers
You may already be planning to set up flowers if you design your banquet tables with wedding features in mind. However, floral arrangements aren't just for wedding receptions! You can spruce up banquet tables at any event with beautiful blossoms. Try flowers at your fundraising gala, end-of-summer BBQ, or sports team event. You'll make things look fresh and fabulous every time!
Plan Ahead for Worrisome Weather
The last thing you want is all the hard work you put into those party or reception tables to go to waste, so it's just common sense to plan what to do if it rains at your outdoor party! Renting a tent or canopy will keep everyone covered in the event of rain. Also, consider these quick tips:
Inform guests of the potential for bad weather on the invitations and note backup plans.

Tell partygoers to come prepared with umbrellas — and bring extras in case someone forgets.

Don't panic

—

your party can still be a smash hit even in case of a torrential downpour. Keep enjoying yourself to keep the sunshine going when it's cloudy.
Make Your Event Extra-Special With Tents & Events!
Are you ready to hold a banquet event that everyone will love? Contact Tents & Events to get the party started! Our experts can help you plan, set up, clean up, and more — no matter how large or small your event may be. Reach out to us today to learn more!