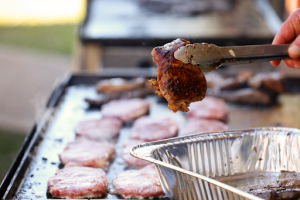 There's only one thing better than raising money for a worthwhile cause: when you can raise money for that cause while also having fun! A fundraising gala or party is a great way to rally others around a cause while also providing a space for connection and community.
Whether you're creating an annual event tradition or you're just trying to organize a one-time fundraising event, use this guide to ensure the party goes off without a hitch — and you hit your goal successfully!
Set a Budget
One of the most important parts of event planning is setting, and sticking to, a realistic budget. No matter what type of event you're having — from a low-key virtual event to a huge in-person celebration — always set a budget for your fundraising event. Consider how you can recoup some of the money spent on extras by increasing ticket sales, offering benefits for higher donations, or even holding a silent auction.
Gather Staff and Volunteers
Even if you're working with existing nonprofit organizations at each stage of your fundraising event, you still need all hands on deck for your fundraising to be a success. Having plenty of extra help will help things go smoothly, plus with the help of others, you're bound to come up with event ideas you would have never thought of on your own! Gather plenty of community volunteers and staff as needed. Create a special touch that helps staff and volunteers stand out so that they can be recognized for their hard work (think colorful matching shirts, glittery bow ties, or other event-appropriate attire). 
Create a Fundraising Goal
The most effective fundraisers all have one thing in common — fundraising goals! It's best to decide ahead of time how much money you're attempting to raise for your cause so that you can have an idea of what needs to happen at the event itself. In addition, showing off your fundraising progress as it reaches higher and higher will excite guests and inspire major donors. Whether indicated by a traditional chart filled in by marker or updated in real-time using an app or spreadsheet, your fundraising success will be sure to inspire the crowd you're entertaining!
Decide on Ticket Techniques
Before doing anything else, make up your mind about the way you want ticket sales and event registration to work at your fundraiser. Selling tickets isn't mandatory for every fundraising event, but it's standard practice at more upscale events such as fundraising galas. If you intend to sell tickets, consider what it is you're charging for and how much money you need to recoup to break even and reach your goals. Will you be charging for food to raise funds for the cause, or will there be an overhead price to attend? If you're planning to host a virtual event, how will event registration work? 
Pro tip: Giving away a few free event tickets on social media to promote the event (or hinting at must-have auction items such as designer clothing or purses!) can be a great way to get the community engaged with sharing and liking posts, which in turn increases awareness and attendance!
Be Social-Media Savvy
Engage with your followers long before your event takes place. Create engaging and informative invitations to your event several weeks before it happens to start hyping up the fun early, and continue posting as the event draws closer. Be sure to include location, date, time, dress code, ticket prices, and other relevant information in each post or in the post's description. Consider making a new email address for inquiries or information about your event so that people can reach out to you to learn more, and be sure to regularly check all of your social media to stay engaged in the conversation as the big day draws near. 
Pick the Perfect Venue
The most successful events are at unforgettable venues! In order to truly create that special feeling of community generosity, be sure to check out our options for tent rental in Philadelphia. Or make the afternoon or evening unique and fun at the same time and rent a grill or two to feed your hungry guests!
This Spring, Tents & Events Has Your Back!
Ready to throw a great gala or perfect party for your favorite fundraising cause? These tips will help you reach greatness every time. Interested in booking event services such as tent rental, food prep, and setup and cleanup? Reach out to the Tents & Events team today and let us help take your event from ordinary to extraordinary — guaranteed!