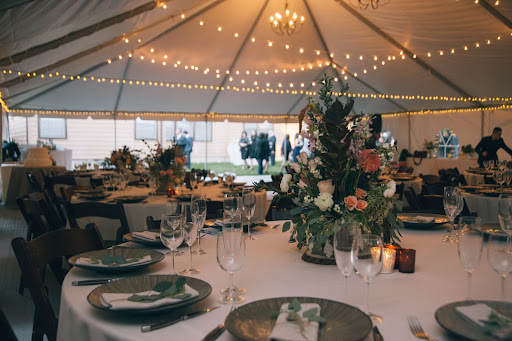 If you're the official — or unofficial — event planner for a wedding, family reunion, company holiday party, graduation celebration, or another type of get-together, it's hard enough to make sure you've crossed every T and dotted every i. If you're getting married, the whirlwind of trying on dresses, tasting wedding cake, and arranging wedding dance floor rentals can be overwhelming. If the event you're holding is for your company, you're probably stressed out thinking about impressing everyone there.
Making your event memorable and unique isn't as hard as it seems! We've seen many parties succeed because they had that "little extra something," such as alternative guest book ideas and fun food options. So, if you're looking for inspiration, here are a few "extra something" for you to use in your planning to ensure your event is truly unforgettable!
Potluck With a Twist
If you plan on having attendees bring premade food and drink for a potluck-style event, consider switching up this often-used idea to make it unique. Use these memorable "potluck with a twist" ideas next time:
Around the world:

Assign each guest (or pair of guests) a country or region of the world, then let them choose what to bring based on those guidelines. You'll end up with a delicious

and

diverse dinner table!

Cocktail hour:

Rather than buying a keg of beer or a billion bottles of wine, have everyone bring their favorite alcoholic beverage and stock a few key ingredients such as orange juice, seltzer, grenadine, lemons, and limes. Don't forget the disposable cups, too! Once everyone has arrived, and drinks are on the table, let guests (responsibly) make their own cocktails.

Family food:

Ask everyone to make and bring a beloved family recipe.
Foodie Feature
Something that people can interact with and eat is sure to set your event apart. So even if you've already booked the main meal with a catering company, you can try these ideas to magnify your menu:
Chocolate fountains or fondue pots

Cotton candy makers

Popcorn machines

Liquid nitrogen ice cream machines
A Bird's-Eye View
Photo booths are great fun, but if you're looking for that one-of-a-kind edge, there are other opportunities to go above and beyond with photography. Out of all the latest unique wedding ideas in the news, aerial drones still steal the show when it comes to wowing a crowd. And you don't have to be holding a wedding reception to rent or buy a drone! You can use one of these valuable units to take photos of any event.
To ensure you're clear, it's a good idea to check your state or county's local regulations about drones. Some places are stricter than others, even if you aren't trying to be a nuisance.
DIY DJs
If the event you're arranging is your wedding day, we know you want the soundtrack to be as unique and personal as your relationship. But if the big day you're planning is a birthday bash, graduation party, or corporate event, there's no reason not to get collaborative with the music selection. Before the party, have everyone send in a few songs and make a playlist on your favorite music streaming service (this gives you the chance to review the selections to make sure they're appropriate, too). Your guests will be thrilled when they hear "their song" and make a beeline for the dance floor!
Community Contributions
Your party or wedding date is all about you and your loved ones, but you can make your event even more special by helping your local community. Ask every guest to bring two or more nonperishable food items on your invitations. You'll have plenty to take to your local food bank or homeless shelter at the end of the evening!
Great Games
No exciting event is complete without entertainment! So here are some unique game ideas to try:
Scavenger hunt.

For instance, hide items that have to do with the couple and their relationship at a wedding party. At a corporate party, have attendees search for company swag.

"Who Am I?":

Pin a celebrity's name on everyone's back, and then they can ask each other "yes or no" questions to figure out who they are. Remember that if you have a large age range at your event, you should probably stick with very famous celebrities or historical figures. You don't want to ask the flower girl to recognize an actor from the 80s or ask one of the older adults to know the name of a TikTok star. 

Table talk:

Print out or purchase some icebreaker cards and place them at every table. It's a simple step that's sure to pay off, especially at an event where people are just getting to know each other.
Fantastic Favors
One of the best ways to ensure attendees won't forget your party is to give out some great favors. A simple but effective theme for your favor bags is the event's time of year. For instance, a summer wedding favor bag might have a paper fan, a fun water bottle, and reusable straws. Meanwhile, a winter birthday party favor bag might include hand warmers, a holiday ornament, and peppermint chocolates.
Are you still trying to figure out favor ideas? For wedding guests, you can never go wrong with customized favors featuring the event date and the couple's initials. In addition, bottle openers, picture frames, and fridge magnets are affordable and useful items — your guests will think of your event every time they use them!
Make Your Celebration Count!
We know there's a lot on your plate, but that's no excuse not to have a good time. For a truly unforgettable celebration, don't forget to take time for yourself. Relax and enjoy your time with your family, friends, or coworkers! It's what sets good parties apart from amazing ones.
Get in touch with Tents and Events to schedule tent rental in Philadelphia or the surrounding areas. A tent is a perfect addition to your next outdoor celebration! We're looking forward to helping you make your event unforgettable, so don't hesitate to reach out today.