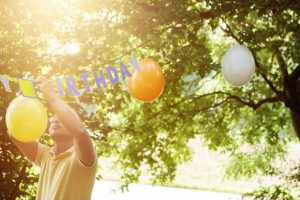 While it feels like there seems to be some light coming from the Coronavirus tunnel, it doesn't mean that everything will suddenly return to normal. This is especially true when it comes to throwing a summer party. It's clear that there's a unique energy in the air, and people of all ages are looking forward to long conversations and late-night laughter with friends and family members. As you prepare to throw a birthday party, or any party this summer, make sure to consider the following:
Minimize Contact
Private social gatherings don't eliminate the spread of Coronavirus. Even if you decide to make sure that all guests are tested before they arrive at your party, you should also make an effort to include extra precautions to enhance safety. This means you may want to reconsider having large party staples such as a self-serve buffet instead of catering staff serving your guests. You'll also want to have hand sanitizer readily available and have a plan of how you'll clean surface areas during the event. By doing this, you'll be able to reduce the spread of germs and bacteria amongst guests.
Make Sure You Can Accommodate All Guests
Not all guests may be vaccinated by the time of your event, so it's important to respect people's personal feelings when hosting your party. For instance, some guests may wish to remain masked or adhere to socially distancing regarding outdoor seating. Be especially considerate of older guests or family members in attendance, as they might have differing thoughts on safety. Before the event, make sure you've conferred with all guests to understand their safety expectations as well. This way, everyone can relax (including you) and instead focus on having a great time.
Be Prepared for Heat and Rain
A large part of what makes summer parties so special is the sun. Being able to spend all day outside in warm weather automatically puts people in a great mood. However, overexposure to the sun doesn't just lead to sunburn. Without proper shade, guests can become dehydrated or even suffer from heatstroke. We suggest renting a tent for your outdoor party to offer a place to relax and escape the summer sun, which is still outdoors. Tents not only help block the sun, but they also are handy to have on-site in case there's a rainstorm and your guests want to stay dry.
Tents & Events has years of experience helping residents of the Bucks County area prepare memorable summer events. We're taking special precautions to protect our clients and staff from the ongoing Coronavirus pandemic. Our team is happy to assist with planning your COVID-19-safe summer event, and we offer a wide range of party solutions—from cooking equipment to table settings. Reach out to our team today for more information about how to best plan your next outdoor event.