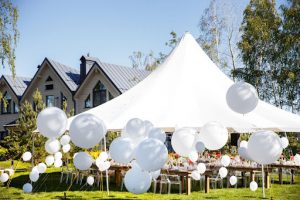 Since 2020, businesses, party hosts, and event planners have adjusted to the ever-changing pandemic landscape. The new frontier of pandemic living doesn't mean that all events are prohibited. Instead, it means that organizers have to put a little extra thought into mitigating the risks of having an in-person event. 
As social distancing becomes the gold standard for how we have learned to exist around other people during a pandemic, outdoor tents allow additional room to keep appropriate distance without full-scale construction projects.
Exploring Tents' Role in Today's Events
When it isn't possible to create an indoor space that can accommodate your event's capacity, tents create a covered outdoor space that allows for additional room to effectively distance and accommodate your guests' needs. All types of businesses and organizations have had to utilize tents to some capacity in the last year — and it doesn't look like the need will go away any time soon. 
Tents can create important options for almost every type of event, gathering, or function. 
Schools:

Schools were built to accommodate large class sizes in relatively small quarters. During the pandemic, public schools and universities have pivoted to using tents to provide extra seating at an appropriate distance during instruction, allow students to register for classes and orient themselves to the campus safely, and complete other necessary functions. 

Restaurants:

With the continually changing indoor capacity regulations and the understandable reluctance of restaurant-goers to eat indoors, tents have provided a semi-permanent solution to restaurant owners looking for new ways to serve their food and keep the doors open. Not only are tents great for an outdoor dining room, but they can serve as a waiting area or a break area for employees. 

Retail Businesses:

Curbside pick up and delivery has quickly become an expected amenity at retail businesses. Tents allow shoppers to quickly and easily pick up orders without having to go inside. 

Salons:

Salons have pivoted to use tents for personal services, additional waiting areas, and massages. Many salons rely on walk-in appointments and the ability to attend to multiple customers at once. With tents, salons can meet their clients' needs while keeping everyone at an appropriate distance. 

Churches, synagogues, and religious institutions:

Synagogues, temples, and churches have always been critical gatherings for people, especially during uncertain times. Tents can help churches and other religious institutions comply with social distancing guidelines while still holding necessary services. Different sizes of tents create specialized areas for youth group events, separate services, drive-thru communion, meals, and celebrations. 

Events:

Weddings, graduation parties, garden parties, family reunions, and all other kinds of events have often included tents as part of their setup. During the pandemic, tent rentals have allowed these events to adjust to current safety needs while still allowing for much-needed celebration. 
Tips to Consider Before Renting a Tent During Coronavirus
No matter what reason you are considering tent rental, pandemic safety and organization are crucial to making the most of your event. To ensure your event goes off without a hitch, consider the below tips: 
Ask about cleaning and sanitizing procedure before and after your event and tent rental.

Rent a bigger tent than you think you need. A larger tent will provide more room for adequate social distancing. 

Measure the space you plan to use for your tent. In some cases, it's better to opt for several smaller tents than one large tent. 

Whenever possible, utilize the zipper windows on your tent or roll up the side panels to optimize circulation.

Ask for tent installers to double-check for adequate support and tie-downs, even if inclement weather is not expected. 

Ask about discounts or special rates for long-term rentals. 
For more information about tent rentals, don't hesitate to reach out to our team today!