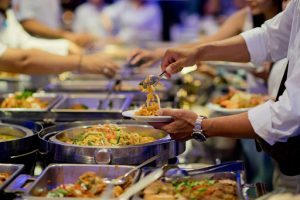 There are infrequent occasions where it's possible to throw a party without food. While you may have sorted out an excellent menu for your guests, it's equally important to think about how food will be served. At Tents & Events, we have years of expertise throwing events of every size. We can say for sure that party hosts almost always underestimate the number of food service items needed. When you're planning the guest list, the tent rental, and the seating layout, of course, you're going to forget that you didn't order enough spoons for dessert. Luckily, that's part of the reason we began our company. No, we didn't set out to be a spoon supplier, but we did aim to make sure that hosts can have as stress-free an event as possible.
Save Money
When party hosts start to think about all of the food service items necessary for an event and the cost of buying these items, they're often left surprised—and not in a good way. The cost of new, high-quality serving bowls, matching tablecloths, and elegant glassware quickly adds up. Even for more informal events, renting the right food service items can keep your event clean and free of necessary clutter.
Renting food service items is also a cost-effective way to create a well-decorated and thoughtful event at a lower price point. Most reputable event companies will offer a wide range of tableware and serving ware to fit your event needs. Rather than having to buy heat lamps, chafing dishes, and champagne buckets, you can rent them at a fraction of the cost.
Save the Environment
In addition to helping save money, food service rental is a sustainable solution to purchasing party supplies. Instead of needing to use plastic utensils and cups (which take hundreds of years to decompose), you can rent glassware and reusable silverware. Even though wooden cutlery is evolving as an alternative to plastic, you'll often save more money—and stress—by renting these items instead.
We know it can be tempting to buy an entire food service set-up for fifty people, but think about where you will store all these things once the party is over. By renting equipment, you don't have to worry about where these plates and glasses (and spoons!) live until your next major social event.
From summer barbecues to outdoor weddings, we have a wide range of food service items to suit your needs. Our team of event consultants is ready to help you plan and execute your next event. For more information about our cooking equipment rentals and other party planning necessities, reach out to our team today, and let's get planning!