Dreaming of a white winter wedding but don't know how to put it together? Here are some romantic winter wedding ideas by Tent & Events, the top party supply and tent rental company in the Philadelphia area, to convince you to tie the knot in the cold!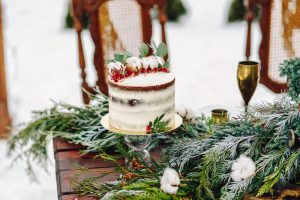 Embrace Greenery
Spruce, fir, and eucalyptus are a staple for winter weddings. Not only does combining greenery to your typical floral arrangements add different texture, but they subtly invoke the emotions of holiday joy and nostalgia. Stunning holiday garland can be found at reasonable prices in the offseason and can make for perfect alter decor or table pieces.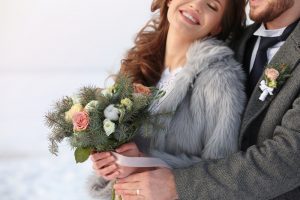 Faux Fur Accessories
When planning how to keep warm during your wedding, we recommend a lightly-colored fur jacket to keep you looking bridal. Not only does faux fur add texture to your dress, but it looks stunning in photos. You can also keep your bridesmaids warm (and happy!) with faux fur stoles. The combination of faux fur and a white, winter background is timeless and elegant. Faux fur can also be used as unique and cozy accents on chairs and tables.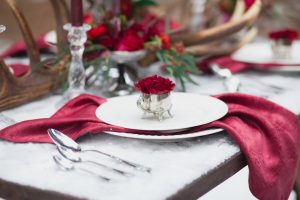 Velvet
After making a huge comeback – this fabric is beautiful, versatile, luxurious, and very trendy in the wedding world right now. The soft look and feel of velvet are perfect for a winter wonderland wedding. Consider having velvet bridesmaids dresses in different winter colors, or using them as table décor. Additionally, men's bow ties, suspenders, or loafers add the perfect touch of velvet without going overboard.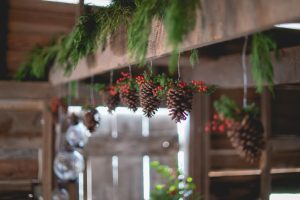 Bring Outdoor Elements Inside
Branches in centerpieces, wood slice place cards, or pinecone fire starter wedding favors add a touch of nature to feel like you're outside while guests are keeping warm inside.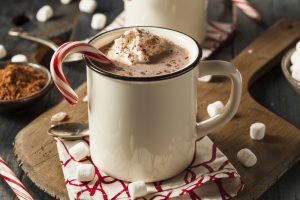 Hot Chocolate Bar
This traditional seasonal drink is a must have for any event this time of year. As it is becoming highly requested by brides, venues are now including this option as an add on during desserts.  If you're a DIY bride, a hot cocoa bar is pretty easy to create on your own.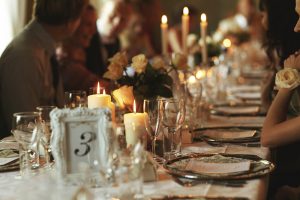 Candles Galore.
Nothing is quite as alluring as the glow of candlelight. Use candles in small glass votives or antique candlesticks in addition to your floral centerpieces. If your venue does not allow open flames, use LED candles for a very realistic and safe effect.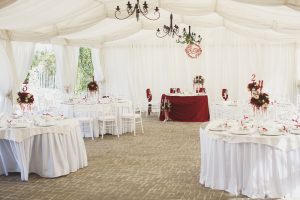 Be Daring With An Outdoor Wedding
Just because it's cold outside, it doesn't mean you can't have the outdoor wedding of your dreams! Find a location to put one of our beautiful tents, rent some heaters, and put out a basket of blankets for guests who want some added comfort. You'll be a risk taker, but it'll be a memorable experience for all!
To ensure that your winter wedding is a dream come true, consider adding these elements and contact the best full-service party and tent rental company in Philly.