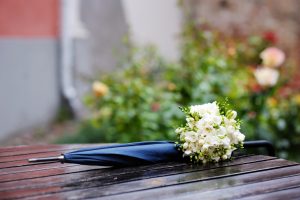 The phrase "rain on your wedding day" might immediately get a certain song stuck in your head or remind you of 90s MTV nostalgia. But when you're the one tying the knot, a rainy wedding day probably doesn't sound like music to your ears at all — especially if you're having an outdoor ceremony.
Thankfully, we've got a fair bit of experience when it comes to how to have an outdoor party in the rain. Read on to learn how to plan for rain during an outdoor wedding (and take advantage of some of that good luck)!
Have a Backup Plan (or Two)
Wedding planning often accounts for everything from the number of guests to the color of the flowers to the shape of the cake knives. But have you given thought to your rain plan? If you're choosing an outdoor venue attached to an indoor space, make sure you discuss having access to that indoor space in case of rain. If you're in a more remote location, plan as if you will have two wedding venues: one inside and one outside. 
Think about transportation in case of a sudden shower.

How will people get from the outdoor location to the indoor one? Give extra consideration to keeping guests from slipping or wedding dresses from getting soaked.

Plan for safe parking

as rain can make things muddy, and you don't want anyone to get stuck at the bottom of a hill.

Have a decor plan in mind for emergency indoor service.

Consider putting a few decorations and flowers in place ahead of time in the backup location before the big day.
Another important part of having a backup plan in case of a rainy outdoor wedding is communicating with guests ahead of time. Even if you're sending out your wedding invitations a year in advance, include the backup weather location on the invitations.
Dress for Success
If you anticipate rain, dress for success. Consider bringing rain boots with you in case of mud, pack towels and raincoats in an easily accessible location, and bring a change of clothes — yes, even if that means shopping for more formalwear than you think you'll need. You can also incorporate waterproof shoes and clothing into your actual wedding day look if your style planning allows for it.
Keep Guests Dry
While you plan for your outdoor wedding, you're more often than not thinking about yourself and your future spouse since it is your special day after all. However, don't forget to keep your guests dry. Talk to your venue and ask if they have extra umbrellas or purchase a stash of rain ponchos. You can even give clear umbrellas to the wedding party to keep wedding photos looking great.
Prepare for Extra Touch-Ups
A rainy wedding day is a bummer if you're trying to keep every strand of hair or bow tie perfectly in place. Humidity causes hair to frizz like crazy, raindrops melt makeup, and the feeling of being soaked through puts a damper (no pun intended) on everyone's style. You may need to pack extra touch-up supplies or bring a stylist along the day of the ceremony so that you and your spouse-to-be can get back to photographic perfection before the photographer starts snapping away.
Invest in Wedding Insurance
If you're determined no one can rain on your parade (or your wedding), you may be interested in wedding insurance. If your event is disrupted by rain or canceled due to inclement weather, wedding insurance covers you so that you don't have to pay the hefty cancellation fees some venues charge. Some policies also offer additional benefits protecting your guests from injury related to the weather. There are even options for insuring your wedding outfit against damage!
Cover Up
The best way to deal with rain at your wedding is to bring the indoors outdoors! Yes, it's backwards on purpose — using an event tent can protect you from the wrath of Mother Nature while still providing that outdoor aesthetic and experience you planned for. You can choose a specific covered area such as a covered wedding dance floor rental or protect your whole guest list with a large tent rental.
Keep Calm and Marry On!
The most important thing to remember if it rains on your wedding day is that ultimately, you can't control the weather. Your wedding is a celebration of love with your spouse, and a little bit of rain can't change the love you have for each other. You can take every precaution possible, but it still may very well rain on your wedding day — and that's all right. No wedding is perfect, and the rain might even become a fond memory as you look back on your big day.
Your Outdoor Wedding MVPs
If you want to ensure your wedding guests stay dry, rely on Tents & Events for wedding tent rental. We can make any day special, no matter what's brewing up there in the clouds. Get in touch with us today and stop worrying about rain on your wedding day!