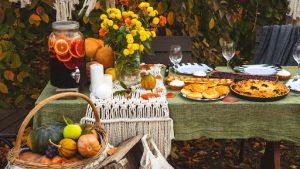 Cooler temperatures are rolling in, leaves are changing colors, and the scent of campfires and pumpkin spice are beginning to blanket us. All of these cozy vibes point to one thing: fall!
Don't hang up your party planning hat now that the summer season is over. There are still plenty of opportunities during the autumn season to host an outdoor party. Here are four tips for throwing a killer fall party that will have guests excited for the new season.
Plan a Fall-Inspired Menu
Now that summer is over, you can get creative with the menu for your fall outdoor party. You're not limited to grilled hot dogs, burgers, and chips. 
You can cook turkey, pork chops, or lamb on your grill rental. Season the main course and sides with popular fall spices, such as sage, smoked paprika, or rosemary. And don't forget your fall veggies: pop some pumpkin, sweet potatoes, or winter squash onto the grill for a delicious side item.
Make sure to include a dessert on the menu as well to satisfy your guests' sweet tooth. You can never go wrong with the classics: s'mores or pumpkin pie.
Quench Your Guests' Thirst with Tasty Beverages
Just as important as the food menu is the drink menu. Keep guests warm on a chilly day with pumpkin beer or white and red wines. You can make the drink table even more elegant with a wine fountain for rent. Not only will it designate the drink station, but it will also serve as a gathering place where conversations can arise. 
If adults watching their alcoholic consumption or kids are attending the outdoor party, you can also serve classic fall drinks such as apple cider or hot chocolate.
Create Cozy Vibes with Autumn Decorations
Once you have your menu planned, you can move on to the fun stuff: the decor! Think about the vibe you want to create for your fall outdoor party: cozy and sophisticated or spooky? Choose color schemes and decorations based on your preferences. 
Incorporate purples, oranges, yellows, and browns into your decor for Halloween. For a rustic and classic look, go for greens and reds. Spread candles or lanterns throughout the party space, and garnish tables with tiny pumpkins. Toss gingham or burlap table runners across the tables, and place throw blankets throughout your backyard or venue for a cozy look and to keep your guests warm when the sun goes down.
Strategically Arrange Tables and Chairs
Hosting a fall party is all about creating the right atmosphere. Encourage your guests to connect with each other by arranging chairs in a circle, either around a table or fire pit. Place pillows or extra blankets on the chairs to ensure everyone is comfortable.
Be the Best Host of Fall Outdoor Parties
Embrace the cooler weather by hosting a fall outdoor party for your friends and family. Whether it's an autumn barbecue or potluck, you can't go wrong. Start planning your fall event today! 
Get in touch with Tents & Events for table and chair rentals in Bensalem, PA. We also have tents, table linens, and cooking equipment.