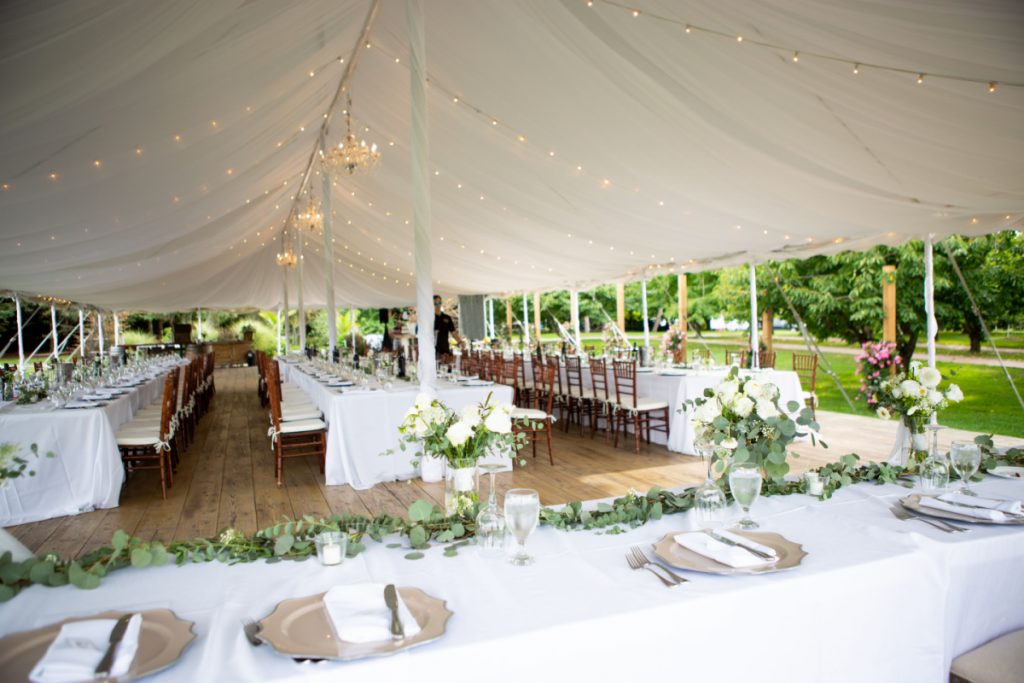 Planning an outdoor wedding can be a dream come true for many couples. The allure of breathtaking natural scenery, fresh air, and the freedom to design your dream setting is undeniable. At Tents & Events, we understand the intricacies involved in organizing an outdoor wedding and have some event-planning tips to help guide you through the process. In this blog post, we will share valuable insights and important event-planning tips to ensure your special day goes off without a hitch. So, let's delve into the things to keep in mind while planning an outdoor wedding to make sure you have all your bases covered!
Consider the Season and Weather
Mother Nature plays a significant role in outdoor weddings, so it's crucial to consider the season and weather conditions for your big day. Different seasons bring various challenges, such as rain showers, extreme heat, or chilly evenings. Keep an eye on the weather forecast and make backup plans accordingly. At Tents & Events, we offer a wide range of high-quality tents, perfect for shielding your guests from unexpected weather changes.
Select the Right Venue
Choosing the perfect outdoor venue sets the stage for a magical wedding experience. Whether it's a picturesque garden, a stunning beachfront, or a charming vineyard, the venue should comfortably align with your vision and accommodate your guest list. Keep in mind the facilities available on-site, such as restrooms and parking, to ensure a smooth experience for your guests.
Rental Essentials
One of the most crucial things to keep in mind while planning an outdoor wedding is the rental equipment you'll need to create the setting. To create a comfortable and elegant ambiance, it's essential to rent the right equipment for your outdoor wedding. Tents & Events offers a comprehensive range of rental services, including tents, chairs, tables, linens, and table settings. We also provide dance floor rentals in Bucks County, PA, to help you and your guests celebrate in style. By partnering with us, you can focus on enjoying your special day while we take care of all the equipment logistics.
Prepare for Plan B
Even with meticulous planning, unforeseen circumstances can arise. Being prepared with a backup plan to mitigate any potential issues is another important thing to keep in mind while planning an outdoor wedding. Renting a tent provides an excellent solution, allowing you to continue your celebration comfortably, rain or shine. Our team at Tents & Events will work closely with you to create a versatile setup that can adapt to changing conditions seamlessly.
Lighting and Décor
Enhance the atmosphere of your outdoor wedding with carefully curated lighting and décor. Incorporate elements that complement the natural surroundings and reflect your personal style. From string lights and lanterns to elegant centerpieces, the right lighting and décor can transform your outdoor venue into a fairytale setting.
Mindful Guest Comfort
Ensure your guests' comfort by considering their needs throughout the day. Provide shaded areas and fans to beat the heat or cozy blankets and outdoor heaters for cooler evenings. Opt for comfortable seating options with chair rentals in Philadelphia, PA, ensuring everyone can relax and enjoy the festivities.
Contact Us for Outdoor Wedding Equipment Rentals
There are many things to remember while planning an outdoor wedding, but with the right planning, it can be an unforgettable experience for you and your guests. By keeping the aforementioned event planning tips and things to remember while planning an outdoor wedding in mind, you can navigate the process with confidence.

At Tents & Events, we are passionate about turning your outdoor wedding dreams into a reality. Contact us today to discuss your wedding equipment rental needs, and let us help you create a truly remarkable celebration. Your special day deserves nothing less than perfection, and Tents & Events is here to help make it happen!