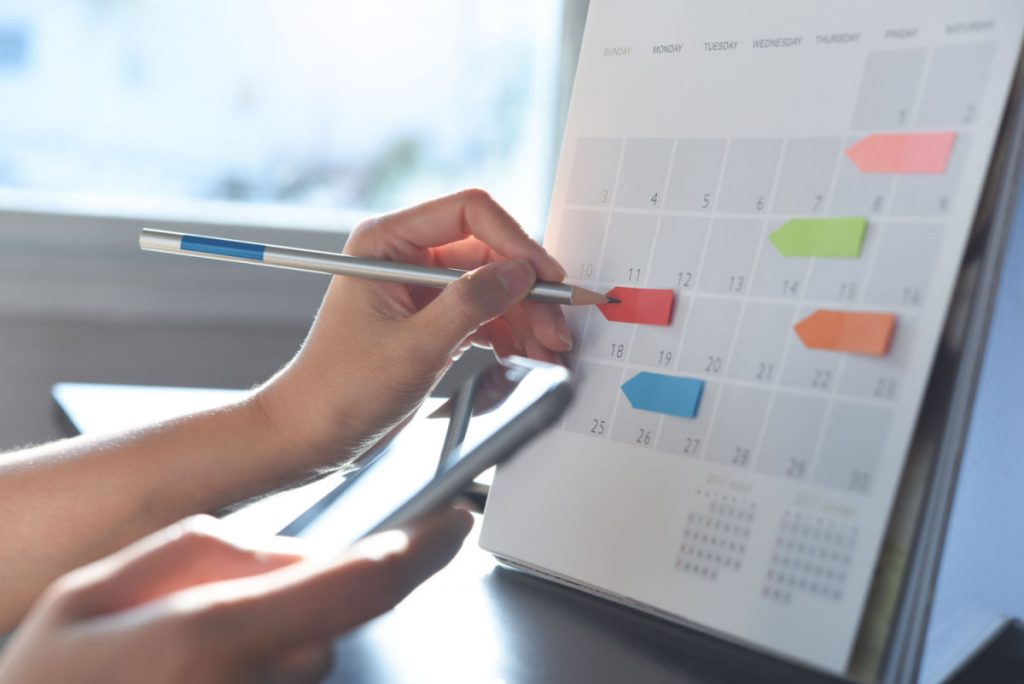 Planning a party is a different type of experience for different types of people. Some people like the challenge of organizing an event at the last minute and making magic happen with as little planning as possible. Others like to have every tiny detail coordinated months in advance, from the party favors to the coordinating napkin rings. Which type of person you are usually plays a role in when you decide to start your party planning. But, if you want to make an event as stress-free as possible and maximize your options for your party, some elements will need as much pre-panning as possible. What are those elements, and how far in advance should you plan your party?

Tents & Events is a full-service party rental service that provides tents and table rentals in Philadelphia, PA, and local areas. Our years of experience in the event and party rental industry have given us a lot of exposure to the logistics of party planning. We know how far in advance you should plan your party depends on a few things. Here are some of the most important elements that require pre-planning:

The location of the party
The type of food or catering is needed
The kind of rental equipment is needed
The dates you're considering for the party
The entertainment you want at the party
So how do these elements impact how far ahead you want to start planning your party?
Popular Venues
When it comes to a venue, you can't plan early enough. Whether the venue you're looking for is indoors or outdoors, many venues accept reservations months and even years in advance. In addition, a popular hall or outdoor location can book dates fast. So if you want a specific venue for your party, it's best for event planners to contact the venue manager as soon as possible to inquire about availability. Their available dates could impact when you choose to have your party or if you need to come up with an alternate location.
Custom Cakes
If you're planning a birthday party, wedding reception, or other event requiring a fancy cake, you need to order that cake in advance. A bakery can make a wedding or birthday cake in as little as 48 hours or decorate a stock cake for walk-in customers, but you don't want to run the risk that they're too busy to fulfill your order or don't have any stock cakes left on hand. Many bakeries require a week's notice for tiered, shaped, or artistic cakes. But it couldn't hurt to give them more notice, particularly when you want a highly-customized theme cake.
Caterers
If you're planning an event that will be catered, the number of people attending will often dictate how far in advance you should book a caterer. Typically, for large events with 100 people or more, a caterer will require six weeks of advance notice. Not only do they need to plan a menu and purchase the food for it, but they also need to coordinate staffing to ensure they have enough people to serve your party. They might require less notice for smaller parties, but giving them at least six weeks is ideal to allow them enough time to get food and beverage menus together. As with venues, caterers can also book up quickly at certain times of the year, so the more notice you can give them means you'll have a better shot at locking in the caterer you want.
Rental Equipment
If you need rental equipment for your party, like tents, tables, chairs, food service, or cooking equipment, you'll also want to make those reservations as soon as possible. Party rental services, like Tents & Events, will do everything possible to accommodate last-minute requests for rental equipment. However, waiting until the last minute may limit the type or quantity of available equipment.
Guest Commitments
If you're throwing a party, you want to have people show up. So, depending on the type of event, it's essential to leave enough time to promote your event to your target audience through invitations or social media. Some dates can present people with more obligations and options than others, like religious and national holidays. If you're planning an event on those dates, you'll want to give your guests as much advance notice as possible before they commit to other plans. But, generally, eight weeks before the party will do for most parties, allowing plenty of time for you to mail out invitations and for guests to receive and return RSVPs.

When it comes to graduation parties, you may also be competing with other families who are planning a party for their graduates as well. If someone you know has an upcoming graduation, reaching out to their friends and family is a good idea to coordinate efforts and avoid conflicting graduation party dates. Doing so months before graduation can help ensure graduates don't have to pick and choose between conflicting parties they would like to attend.
Entertainment
How far in advance you should plan your party also depends on the entertainment you want to match your party theme. For example, if you want a DJ to play music, you can usually schedule one eight weeks or less before the party. Some DJs may even be able to commit to an event with as little as a few days of notice. But if you want to have a specific band or singer at your event, you'll be competing with their other performance dates, so entertainment is another aspect of your party you want to plan well in advance. Depending on the act's popularity, you should inquire about its availability a year or more before your party to give you plenty of time to lock them in or come up with alternatives. Some more involved party games that require special setups or equipment should also be scheduled months in advance to ensure a successful event.
We Can Provide All the Rental Equipment You Need
Deciding how far in advance you should plan your party depends on how many options you want available and how important it is to have specific elements in place for your event. The more time you allot to pre-planning, the more options you will have and the less stressful your party planning will be. But even if you are a last-minute party planner, Tents & Events will go out of our way to ensure you have everything you need for your party.

Our rental service can supply you with outdoor party tents, tables, chairs, linens, flooring, staging, cooking equipment, and more for any size event — from small, intimate events with ten people to large corporate events with thousands of people. We also provide grill rental in Bucks County, PA, so that you can serve tasty flame-broiled burgers, hotdogs, or steaks at your event. Call us today for a free estimate on all the rental equipment you need to create an event that is both successful and memorable.