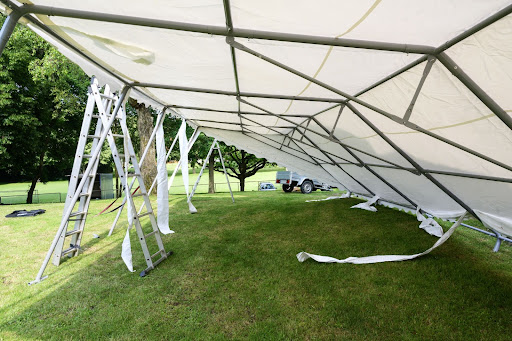 If a big event featuring a frame tent or pole tent is in your near future, you're probably thinking about how the tent assembly will go. When it comes to renting a tent, people usually choose to either assemble it themselves or have professionals do the job.

Which option is best for you? It all comes down to the person. Everyone's situation is a little different, and there are pros and cons to each choice. Consider these factors as you plan your next outdoor winter party, wedding, or birthday bash!
Pros of DIY Tent Setup
Control Over Process: If you're particularly fussy about the location of your rental tent, setting it up yourself will give you complete control over its placement. This can be both positive and negative (based on external factors such as weather and guest behavior).

Cost Savings: Hiring a contractor to set up your tent will almost always cost more than doing the job yourself. The cost difference isn't hugely significant, but it can make an impact if you are working with a limited budget and are interested in saving money wherever possible.
Cons of DIY Tent Setup
Time-Consuming: Setting up a party tent yourself might seem simple, but it can get complicated quickly. Depending on the style of tent you've chosen, it could take a significant amount of time to get it set up, which can end up eating into the rest of your preparation time.

Mistakes & Safety Issues: Chances are pretty good that you don't set up tents or arrange wedding dance floor rentals for a living, which means there is plenty of room for error during this process. One wrong move could result in a collapsed tent or even harm to your guests. If you are insistent on setting up your tent yourself, always make sure to follow all instructions to the letter.
Benefits of Hiring Professionals
Expertise: Hiring a professional team for tent setup ensures that the people setting up your tent actually have the skills to do so. In addition, the best party equipment rental companies are licensed and insured, which prevents possible legal complications and safety issues.

Time and Energy Saved: If you hire a professional, you will save time and energy that you can devote to other aspects of event planning, such as setting up high-quality decorations and seating arrangements.

Peace of Mind: Worrying about putting up your event tent can make your big day feel much more daunting. After all, the last thing you want is to think that you should have hired a pro but didn't! By arranging for a professional setup, you'll be able to spend more time doing what matters (hint: hitting the dance floor).
Cons of Hiring Professionals
Cost: Hiring a professional can cost more than going solo.
Planning: If planning isn't your forte, you may need to work with the tent rental company on it anyway since they will likely end up asking about guests, requesting a rough tent floor plan, or something else similar. Don't sweat it too much, but stay prepared to answer questions.
Call Tents & Events Today!
Are you looking for high-quality tent rentals in the Philadelphia area? Whether you decide to have our experts set up your tent or you plan to attempt a DIY job, Tents & Events has you covered with our wide selection of tents for any party, corporate get-together, or wedding reception. Get in touch with us today to make your next celebration unforgettable!