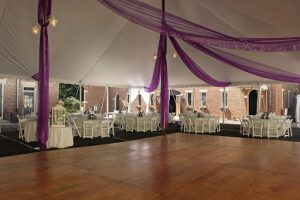 No outdoor party is complete without a dance floor rental. These floors come in a variety of sizes and styles to match your party theme and offer opportunities for guests to create memories. Whether planning a wedding reception, graduation party, bachelorette celebration, or anniversary party, you don't want to forget the outdoor dance floor rental. Here are the benefits you could enjoy from renting a dance floor:
Designated Party Space
Who doesn't have a blast dancing to hits that encourage the hips to swing and the feet to stomp? By having a dance floor at your party, you show guests that they are free to go wild and make the most of the night. No one has to guess if they're allowed to bust a move.
The rented floor also provides the perfect place for you to have your first dance with your new husband or wife. All your guests will know where to stand to get the best view of this new union.
Everyone Feels Comfortable
Many parties bring people from different parts of your life together in one place. It's not uncommon for party-goers and wedding guests to not know everyone present. To help break the ice, you should have a rental company set up a dance floor. Jamming out to popular tunes can quickly unite people and help them feel comfortable.
A dance floor rental can also create an even surface for people to dance on. When your event is outdoors, it's often held on grass, and it can be difficult for guests to cut loose on this uneven surface, especially if they're wearing heels.
Entertainment All Night Long
As a host, you have plenty of responsibilities on your plate. By renting an outdoor dance floor, you will not have to worry about planning one activity after another to keep guests entertained. Simply present the floor and turn on some music, and your guests will take care of the rest.
For those who don't want to dance the night away, you can get table and chair rentals in Bensalem, PA. Here, they can catch their breath, enjoy some refreshments, and catch up with old friends.
Perfect Photo Ops
A rented dance floor is great for creating unique photo opportunities. Anyone can get shots of guests sitting at a table, eating the catered food. But pictures of party-goers and wedding guests on the dance floor can prove that everyone had fun. These are the images you will want to display in your home and share on social media. Add string lights or lanterns to the party tent and around the dance floor to add depth to the photos.
Party the Night Away on the Dance Floor
Throw the best outdoor event of the year with a dance floor rental. Guests of all ages will enjoy the mini dance party as they celebrate the new marriage, accomplishment, or anniversary.
For every party rental you could need, turn to Tents & Events. We provide high-quality dance floor, table, and tent rentals for parties and weddings big and small. Reach out to us today with any questions or to rent party equipment.