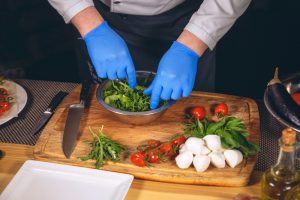 Nothing says "summer" quite like an outdoor block party, picnic in the park, or backyard barbeque. While these events may be fun and exciting, they also present opportunities for food safety issues to arise. Keep your guests safer this summer season by using these five quick tips for better outdoor food handling.
Wash your hands often.

Washing your hands often is the best way to prevent bacteria from getting in your food. Remind guests to wash their hands before and after handling food, after using the restroom or changing a diaper, and after handling dirt, sand, or outdoor toys.

Keep cold foods cold.

Cold food should be kept at a temperature of 40 degrees or lower before serving. After you set the food out, be sure to pack everything up within two hours—this will stop harmful bacteria from attending your party. If the temperature outside is over 90 degrees, discard cold food within one hour instead of two.

Keep hot foods hot.

Just like cold foods need to be kept cold, hot foods should stay hot. Hot foods should be kept at a temperature of 140 degrees or above. You can use portable heating trays to insulate food before serving. Discard hot dishes after two hours to prevent illness.

Shade food from the sun.

Cold foods that are left out in the sun can spoil faster than dishes that are covered. A tent rental in Holland offers a quick and convenient way to make some shade at any outdoor event and keep foods away from the heat of the sun.

Marinate meats in advance.

If you'll be doing some grilling at your events, marinate raw meat the night before and store it in your refrigerator. This will help prevent bacteria growth.
Tents & Events offers tent rentals in Holland that are perfect for any outdoor event or party. Give our team a call today at 267-984-4110 to learn more or schedule your rental!