There are all kinds of practical reasons to go with a tent rental in Abington for your wedding. It will protect you and your guests from rain if the weather turns sour, keep out the sun if it gets too bright, and it's a simple way of creating a reception area.
Beyond the practicalities, though, the ways in which you can decorate your tent to create your dream wedding are nearly endless. Here at Tents & Events, our experience has taught us a thing or two about how to deck out your wedding tent to the max, resulting in a wow-experience you and your guests will fall in love with. Before you stop by your source for tent rentals in Montgomery County, have a look at some of these spectacular wedding tent ideas.
1. Coordinate with the swimming pool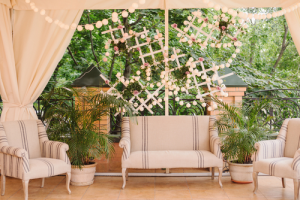 If you're holding your wedding in a venue that has a swimming pool on site, such as outdoors at a hotel or a private home, placing a long tent alongside the pool could be a great way to capitalize on the space. You could then fill the tent itself with appetizer carts, drink tables, or other wedding day amenities. 
2. Don't shy away from sofas
While including furniture in your decor may sound strange at first, a few well-placed white sofas, adorned with some pillows and flowers, could very well make a unique addition to the celebration's ambiance. By placing the sofas under a tent, you can protect your luxurious couches from the elements.
3. Light up the night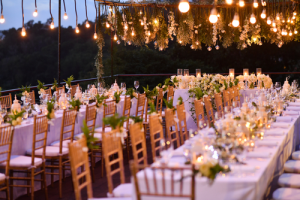 Envisioning an evening or nighttime wedding outdoors? By renting a tent, realizing that vision will be a piece of cake. You can easily string your tent with tea lights and once the sun sets, you'll have a breathtaking canopy for your wedding reception. You could also try lighting up your meal by hanging chandeliers for an added touch of elegance.
Interested in learning more about the possibilities a tent can create for your big day? To get in touch with our team at Tents & Events, reach out by giving us a call today at 267-984-4110.